15 x Best Homemade Milkshake Recipes!
Milkshakes are a drink that everyone likes to drink. Even people that are allergic or have an intolerance to milk finding themselves enjoying them. Milkshakes can be made with processed ingredients or natural ingredients. Those that are made from natural ingredients have a more enticing taste. Here are 15 best recipes that I found that are made with natural ingredients, making them the best taste possible:
Please note I do not give measurement amounts because I believe, for these recipes, everyone will have their own likes and dislikes. Add as much as you want!!
Cherry Vanilla Milkshake
Vanilla Ice Cream
Milk
Fresh Cherries
Marshmallows
Chop the stem off of the cherries. Then chop the cherry's up with a knife. Blend the ice cream, milk, chopped up cherries. Do not over blend, because you want a milkshake not a glass of water. Try putting a sliced cherry at the rim of the glass for a nice look. Then, add some marshmallows for more flavour.
Mint-While Chocolate Milkshake
Vanilla Ice Cream
Milk
Chocolate cookies that you made from scratch
Peppermint Extract
Add the Vanilla ice cream and chocolate cookies that you made from scratch to the blend. Blend it up and remember to not over blend, so that it doesn't come out as liquid. Add the milk and the peppermint extract.
Cookies can be tough to blend sometimes so try a powerful blender.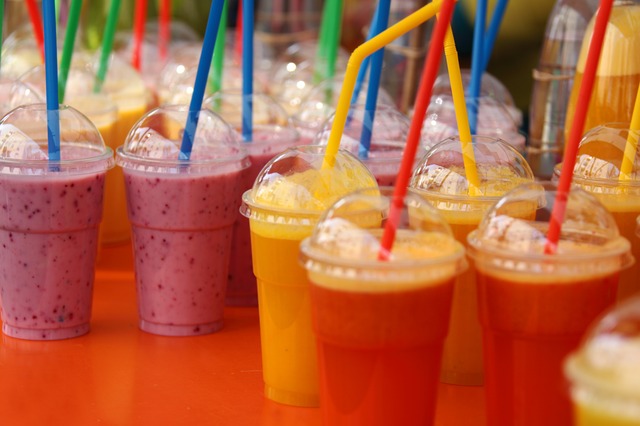 Fruit Milkshake
Vanilla Ice cream
Cherries
Strawberries
Add the Vanilla ice cream and the cherries and strawberries into the blender. Having a fruit shake is good for you as it provides nutrition that you need for the health of your body. Vitamin C and Potassium promotes nutrients in your body.
Banana Shake
Vanilla Ice Cream
Bananas
Milk
Add Vanilla ice cream and banana's to the blender. Banana's provide a host of Potassium. Potassium is essential to the body. Potassium is used for the body to break down carbohydrates, build muscles and protein, control the acid-base balance, and maintain healthy body growth.
Protein Shake
Banana
Low Fat Natural Yogurt
Milk
Peanut Butter
Chia Seeds
Cinnamon
Simply put all the ingredients in a blender and blend. Do not mix too long as you want a milkshake. You do not want to drink water. The banana provides the Potassium that your body needs. The yoghurt and milk provide the Vitamin D. Cinnamon is added for flavour. Peanut butter contains a healthy fat for the body.
Lemon Meringue Milkshake
Lemon Sorbet
Vanilla yogurt
Milk
Lemon Curd
Two Egg Whites
Superfine Sugar
Blend all the ingredients together. The milk and yoghurt provide Vitamin D. The egg white are low in calories. Superfine sugar provides less sodium, and the lemon provides flavour.
Mango Yogurt Milkshake
Mango Sorbet
Yogurt
Mango
Blend the Mango Sorbet and the yoghurt together and then add the mango for more flavour. The yoghurt provides the Vitamin D. Eating mangoes can prevent cancer, clears the skin, improves your eye health, promotes healthy sex, and can prevent diabetes.
Nutella Shake
Nutella
Vanilla Ice Cream
Milk
Blend the Nutella, milk and the Vanilla Shake in the blender. Being careful not to mix for too long, because you want to drink a milkshake not liquid.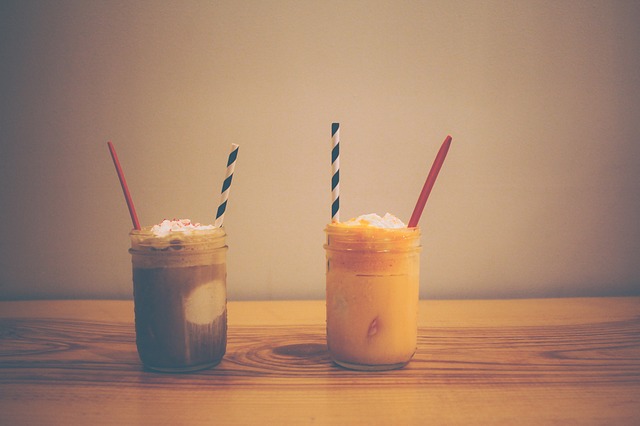 Ginger Spice Milkshake
Vanilla Ice Cream
Milk
Cinnamon
Pinch of Salt
Speculoos ginger cookie spread
Blend all the ingredients in the blender taking care not to blend for too long. Milk gives you Vitamin D. Ginger is useful for treating stomach problems
Acai Boost Milkshake
Frozen Yogurt
Blueberries
Banana
Acai Juice
Protein Powder
Frozen yoghurt provides Vitamin D. Banana's provide Potassium. Provides for optimal health for your brain and the nervous system, and provides great memory function. Acai Juice boosts weight loss. Protein powder strengthens your immune system and repairs your damaged cells and tissues. Blend all the ingredients together taking care not to turn to liquid.
Peanut Buttercup Smoothies
Banana
Low Fat Chocolate Milk
Vanilla Low Fat Frozen Yogurt
Natural Style Peanut Butter
Blend the whole ingredients together, and it provides 20% of your daily calcium that you need. The milk and yoghurt provide Vitamin D. The banana provides Potassium. The peanut butter provides some fat for the body.
Yogurt-Fruit Smoothie
Fat-Free Milk
Low Fat Yogurt
Pineapple-Orange Juice
Frozen Strawberries
Bananas
Blend all the ingredients together. Strawberries provide a huge amount of Vitamin C. Milk, and Yogurt provides Vitamin D. Banana's provide a great source of Potassium. Orange juice provides calcium.
Espresso Soy Milk Shake
Fat-Free Chocolate Syrup
Instant Espresso Granules
Vanilla Soy Ice Cream
Low Fat Soy milk
Blend all together. Helps lower your risk of getting diabetes and Parkinson Disease. This shake is also a Vegan Free shake. The milk gives you lots of Calcium and Vitamin D.
Mango Lassi
Fresh Mango
Sugar
Fat-Free Plain Greek Yogurt
Low Fat Milk
Chopped Pistachios
Cardamom
Blend all ingredients together. The milk and yoghurt provide for Calcium and Vitamin D. Mango's provide help with Chronic Diseases, provides a huge source of fibre, lowers Triglycerides, provides immune health, and is good for weight gain.
Nutty Banana
Banana
Pecan Ice Cream
Milk
Chopped Pecans
Blend all the ingredients together. Nutty! Filled with healthy fats and healthy goodness!
---
Above are some of the greatest milkshakes that I have found, that are very popular and easy to make. Don't let your morning breakfast go by without getting the needed nutrients that you need to get through the day. Let your body get the healthy snack that it needs to sustain energy to keep you active throughout the day. Most of these milkshakes have many different benefits for your body, so why not try making several different.
Milkshakes are a great way for you to get the nutrients and vitamins that your body needs. You do not always have to drink the same one. It is more fun to try different ones than to try and stick with the same boring one on a daily basis. Try these milkshakes and get your body back to the healthy state that it should be in.