Ninja Professional Blender 1000 – Honest Review!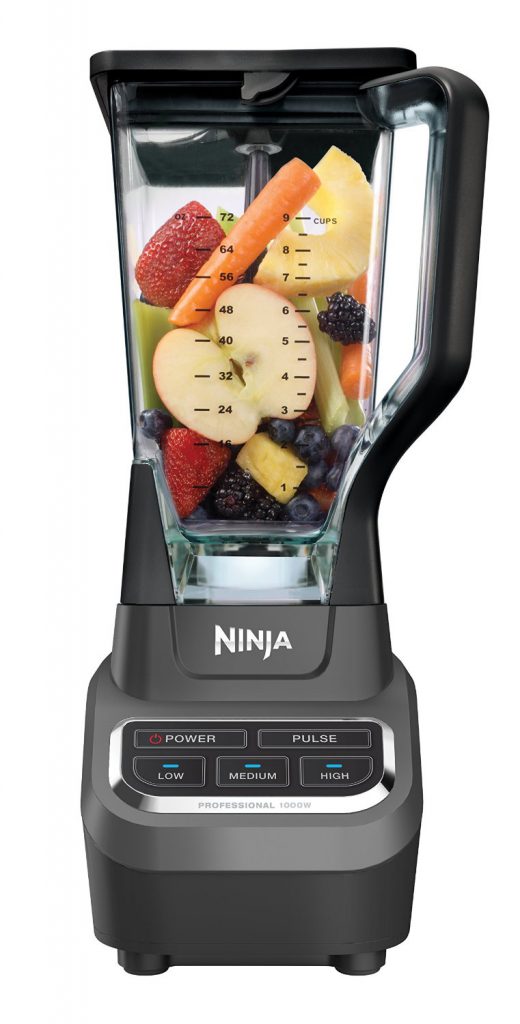 If you are anything like me, and you love to make tasty smoothies, shakes or any other delicious recipe, then you will also love the Ninja 1000 blender (BL610). With outstanding features and a crushing technology that boasts six stainless steel blades, Ninja Professional Blender 1000 is probably one of the best blenders available on the market. [best buy on Amazon]
With an average price of $79, BL610 has a rating of 4.5 stars on Amazon and 4.7 stars on Bestbuy. You will find that this gorgeous blender has very high ratings on other sites, which only proves my point that the Ninja Professional Blender 1000 is one of the best blenders you can buy today.
This one is a little bit cheaper than the BL660 model which packs a little more power – however, the BL610 is perfect is your budget is a little bit tighter.
Why is the Ninja 1000 Blender Worth Buying?
There are several features and benefits that set this product apart from other blenders. For starters, the 1000 watts of power are just incredible. In a matter of seconds, this blender can easily crush tougher fruits and veggies such as apples, carrots, not to mention ice.
Another aspect I love about BL610 is its large capacity. Due to its 72 oz. pitcher, I can make delicious smoothies or frozen margaritas for all my friends or my extended family. Just imagine throwing a party and not being able to share your favourite shake with all of your friends and relatives. Depending on the serving size, you can make enough for up to 10 people in just one go.
Sleek Design
When it comes to the design of this blender, I want to highlight the fact that it can perfectly complement your kitchen design. BL610 sits comfortably on your countertop and can blend in seamlessly due to its sleek black finish. I totally love the way it complements my kitchen design, and I can't but recommend it to you.
BPA Free & Dishwasher Safe
Another reason to buy Ninja 1000 now is its high level of safety. More and more buyers are looking to buy appliances that are safe for their children and can be used without becoming dangerous. Our blender is one of the safest products on the market. All the parts are BPA free and dishwasher safe. In other words, you don't have to worry about any harmful chemicals that might seep into your drink. To top it all, BL660 comes with a robust design and is equipped with an auto shutoff feature that promotes safety.
Smart Lid Technology
One of my favourite aspects about the Ninja Professional 1000 is the smart lid technology, which makes it easy to pour drinks. Removing the lid is a breeze, and the whole process becomes more user-friendly. This technology is fairly new on the market and is only used by a handful of blenders.
Conclusion
Ninja 1000 is a professional blender that does not just meet the basic needs, but also exceeds the wildest expectations. If you are like me, and you love making smoothies every time you have guests or family members visiting you, this blender could be exactly what you've ever needed. Make your own juices, shakes, smoothies, frozen treats and purees with ease and enjoy outstanding safety features.