Oster Versa Blender Review – 1400 Watt Monster!
The Oster Versa Performance 1400 watt blender is an excellent blending unit for at-home kitchen use and in this review, I will show you what it can do! [best price on Amazon]
The design of this model is sleek and black, with aesthetically rounded edges and red accents on the handle and base of the kitchen device. The Versa blender model names are also printed in modern lettering on the side of the handle, giving it an attractive, brand name feel.
It has been designed to both blend in with your collection of kitchen utensils and store easily, while also added a nice pop of color to your kitchen or galley when it's out on the counter and when in use.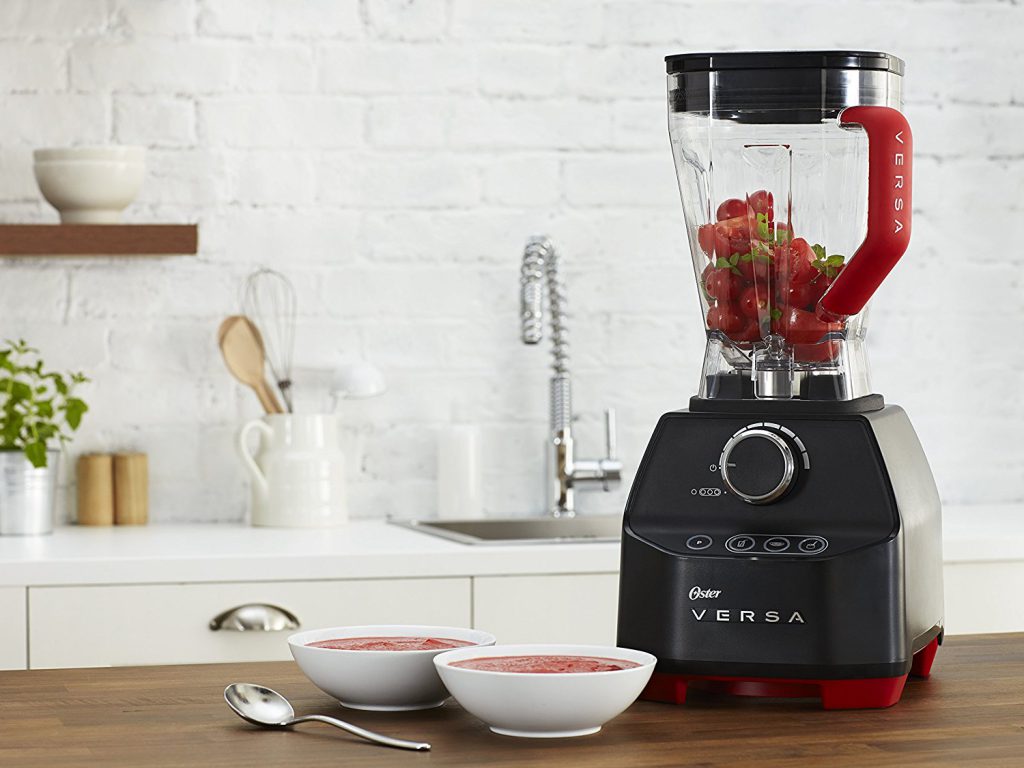 The Oster Versa Performance blender is ideal for baking, cooking, and smoothies. It has a nob with adjustable power settings, ranging from low to high for controlling blending and dicing, while it also comes equipped with pre-programmed settings and a pulse setting for ease-of-use. The pulse setting can be used for chopping, dicing, and getting lumps and clumps out of smooth mixtures with a short, concentrated burst of high-powered blending.
The pre-programmed settings consist of a smoothie setting, a dip, and spread setting, and a soup setting. Each one is specifically designed to provide the correct amount, power level, and pattern of blending to achieve fantastic consistency for each indicated dish every time, without having to make any guesswork.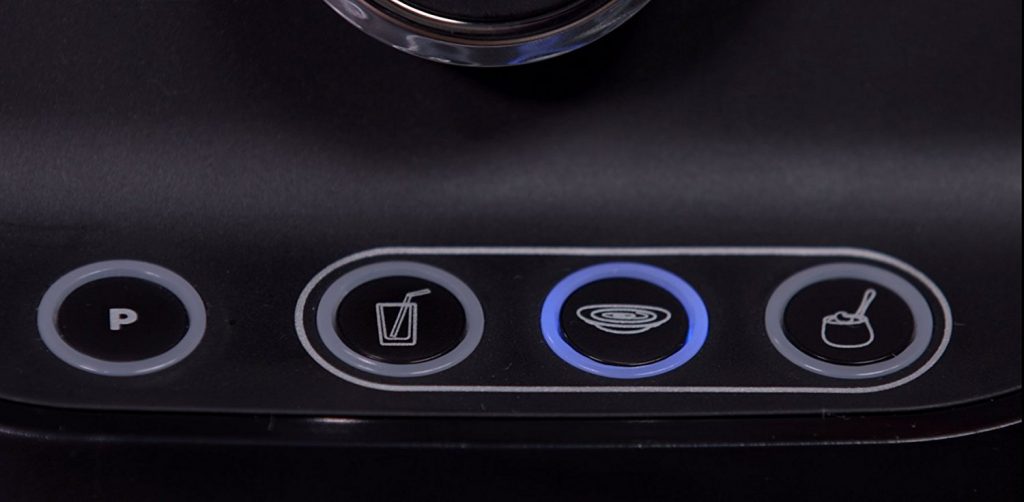 The blender is also compact with enough room in the blending jar with up to 8 cups of raw of liquid ingredients. This can help ensure that you can make enough product in one batch, without having to load and blend a second time, saving you precious time and energy.
The Oster Performance blender is ideal for all of your blending needs. The device offers a high-powered blend every time you use it. It also resists scratches, stains, and damages, which is especially important for those with busy families or individuals with pets or children. This unit model is also designed to prevent leakage when assembled and used correctly, saving you on the clean up.
This Oster blender is so effective, quick, and mess-free, that even culinary artists would be happy to use it. If you enjoy cooking, baking, or even if you run a small baking business from home, this blender could help you streamline dinner time or delivery, leaving you with more time for the other things.
The Oster Performance blender has such a high-powered, smooth blend that it can take on turning nuts such as peanuts into natural, organic nut butter without any hassle, leaking, sticking, or grinding of any kind. The six pure steel, razor-sharp blades can even grind whole grains into flour in your own kitchen for any use, anytime.
The Oster Performance blender is also built to last longer. It was designed and manufactured for durability and long-lasting use in mind. With the powerful motor, this blender is equipped with, the device is designed to cut through materials without strain, quickly producing the result you're looking for with a high-quality blender like the Oster Performance blender. It avoids damage naturally by coming equipped with a long-lasting, high-powered motor, but the unit also protects itself from overheating.
The motor is equipped with a fan to help handle overheating, and the device is programmed to the only function up to a certain temperature. If the set temperature point is reached, the device will shut off due to the auto shutoff detection system incorporated into the design of the blender, ensuring further use and avoiding breakage or malfunction.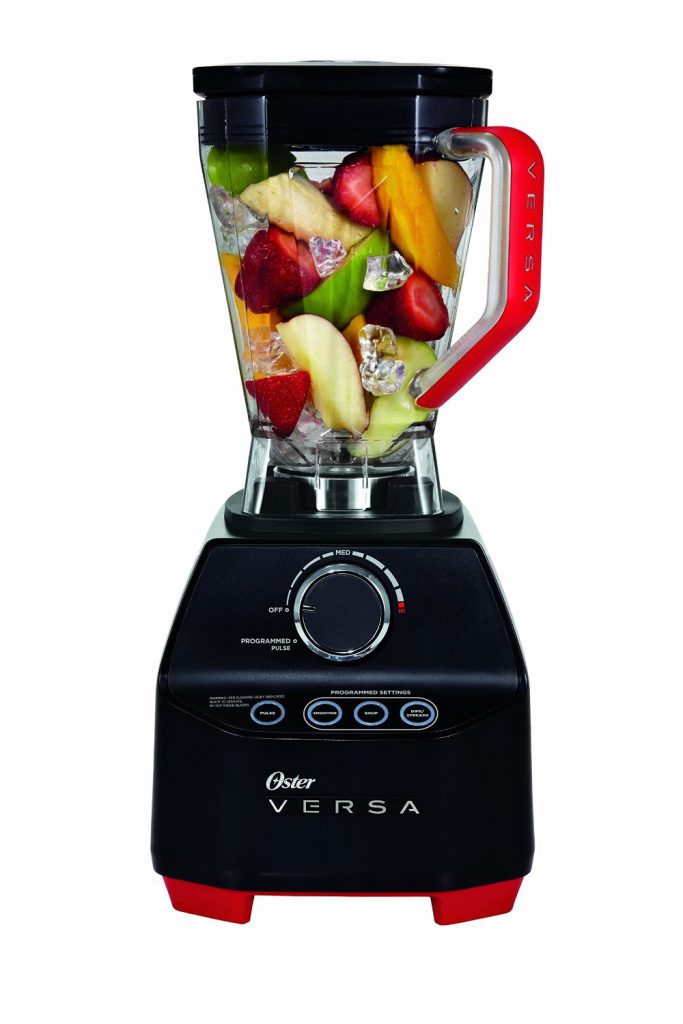 The manufacturer's of the Oster blender also kept safety, health, and the environment in mind when designing this model unit. The plastic portion of this blender is BPA free, to ensure that you and your family are using plastic that is safe, and hormone-mimicking free.
Non-BPA chemical units ensure that no plastic is used with the chemical, which can mimic the effects of estrogen and other hormones in the body, which can be harmful to your health. You can rest easy when using the Oster Performance blender because the steps have already been taken for your to help improve your safety and health.
Oster blenders have also lasted the test of time. The Oster brand has been producing great blenders for kitchen use since 1946. That's over 60 years of designing and creating blending options for users all over the world. Not to mention that the Oster company itself has been around for over 70 years. With the test of time, Oster has remained a top trusted source for kitchen appliances, especially blenders.
The Oster Performance blender is also, above all else, an affordable option. For its very high-quality performance and long-lasting design, investing in this model unit is a worthwhile prospect for buyers. In design, specs, and cost, it rivals many other leading brands, often coming out on top for quality balanced by cost.
The Oster Performance blender is mid-priced for a long, useful life. In fact, this Oster model unit also comes with a 7-year warranty for repairs and replacement, but they are known to last much longer, even when in frequent use if cared for correctly.
There is another blender which offers a 7-year warranty in this price range, the Vitamix professional.
Summary of the Oster Versa Performance Blender
KEY FEATURES
● High-powered
● Long-lasting
● Economical option for a performance blender
● Automatic shut off to avoid overheating & overuse
● Quiet during use
The Oster Versa Blender is an excellent choice for anyone who needs a mid-priced, performance blender that is high-quality, long-lasting, and easy to use. The blender was created with durability and multi-use in mind, making it an ideal aid for any baking or cooking task you need to conquer.
In fact, the Oster Versa Blender is such an excellent machine, it may seem like another chef is helping you with your culinary tasks, aiding you in producing the best dishes you can, every time.
This device is also equipped with safety features like auto shut off and BPA free design in mind, putting your health first. The Oster Versa Blender is recommended for everyone and anyone who want a high-quality blender that will last for years, serving as a good investment for your kitchen appliance collection.
Amazon is the cheapest! See price!